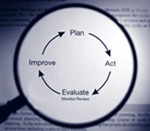 Quality Policy
When quality is the keystone, quality accreditations are bound to fall in place. Accent PreMedia was born out of the need to provide quality print services and hence it went about setting up a successfully run business model that became a benchmark in quality of operations, processes, manpower, and customer care. We had envisaged a vision, which primarily focuses on quality in all its Endeavour's. We have a Quality Assurance Cell, which has to authorize activities contributing to each of our products of our customers during the process at our company. Our main objective is to satisfy our customers with excellent quality.

Our motto is "Quality and Consistency".

Key Features
Key features of our Quality Policy are:

- To deliver end to end publishing solutions that go beyond the industry stereotypes, quality becomes the bottom line.
- Transparency of process no hidden costs and total clarity among our clients.
- To have unparallel Customer care and support practices, to ensure customers goodwill.
- Providing an environment where people gain satisfaction from their work, are recognized for their accomplishments, and share our success.
- Recruiting the best manpower and consistently provide induction and training to the trends of the publishing technology.
- To nurture the best practices of quality management.